In what was a dismal season for the Los Angeles Lakers, D'Angelo Russell was a large bright spot. His jaw-dropping passes, franchise (rookie) record breaking three-pointers, and the post game that he could be working on as you're reading this. Russell should continue to grow under new head coach Luke Walton, maybe even at a better rate than with Byron Scott at the helm.This season could not have been an easy one for the 20-year-old. From being benched, Lou Williams getting the nod in crunch time, and the obvious video leak. D'Lo did do his best under the circumstances, being in a tough position to succeed. While it wasn't a Rookie of the Year-caliber season, he still showed why Lakers fans should believe that he is the future.
The results of the Rookie of the Year voting have come in, and to no surprise, Karl-Anthony Towns was the winner. It was really a one horse race and Towns brought the award home unanimously- a trend in the voting process this year. I could list Towns' achievements and select clubs that he placed himself in, but the article would run too long. D'Angelo Russell, on the other hand, finished ninth.
D'Angelo Russell finished ninth in voting for NBA rookie of the year. Minnesota's Karl-Anthony Towns was first, followed by Porzingis, Jokic

— Mike Bresnahan (@Mike_Bresnahan) May 16, 2016
Russell only reeled in one third-place vote, which is a surprise to many. Here is the official list: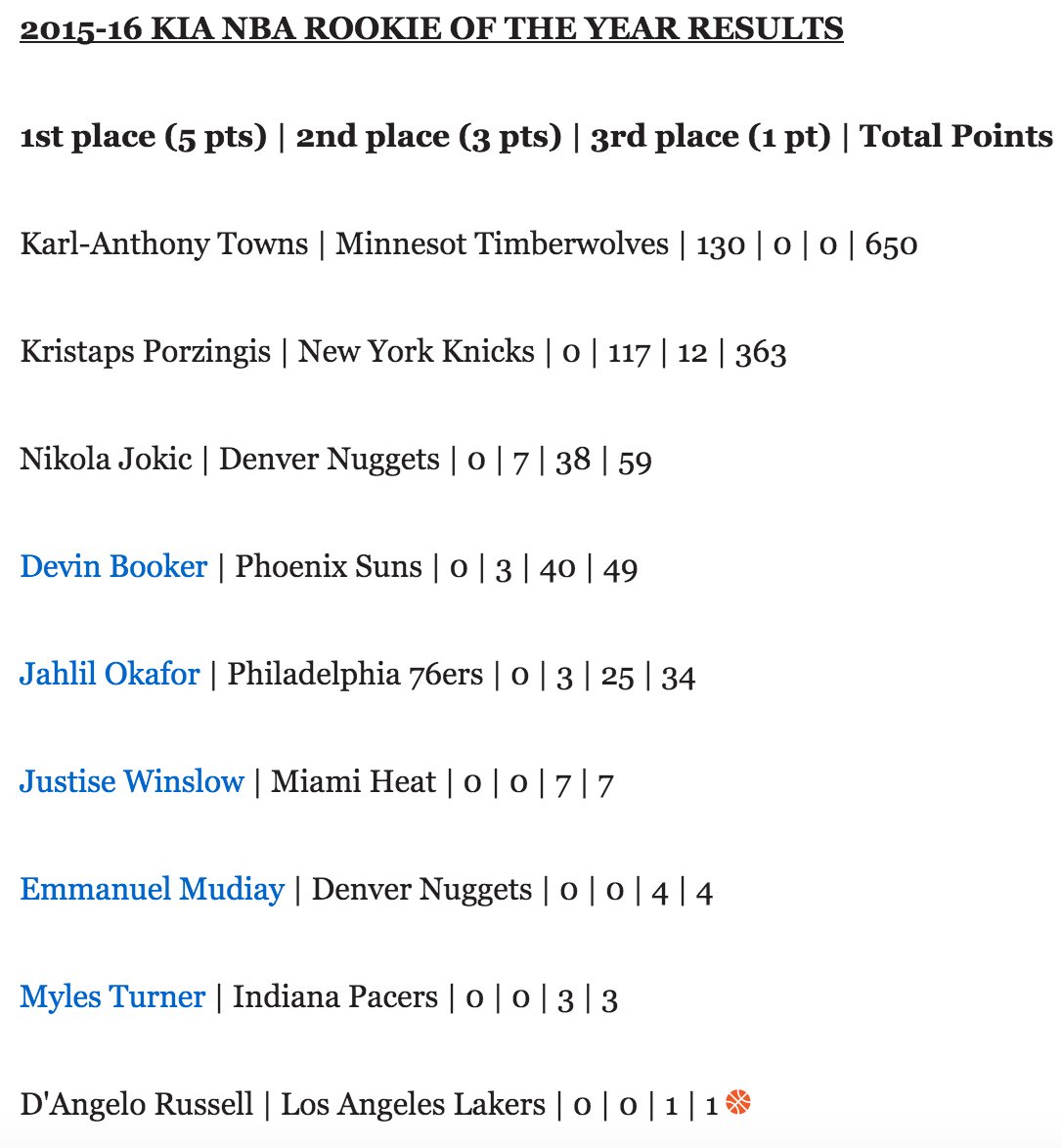 D'Angelo had the sixth least MPG on the list, highest 3PT% of the nine players who received votes, and the iciest veins of all rookies. Out of the nine players, he started more games the only Myles Turner and Justice Winslow. Okafor started 48 games, the same amount as Russell, but in 27 fewer appearances. Playing time and shaky lineups could definitely have played a part in stunting D'Angelo's rookie campaign. A lack of talented players surrounding him didn't help his case either, as Lakers big men fumbled more balls than an XFL running back.
This voting, if anything, should be more fuel to the fire for young D'Angelo. A signal to only work harder. We've only seen a small sample size of what he's capable of, but even that was good enough to warrant an invite to the USA Select Team. 
This is also a nice reminder of what the future cold hold. Pretty nice company.
All stats from NBA.com and basketball-reference.com*