Player of the Week
This was LeBron James' best stretch of play since joining the Lakers. He is the first in purple and gold to have three consecutive triple-doubles since Magic Johnson did so in 1987.
39 points, 12 rebounds, 16 assists against the Mavericks
21 points, 11 rebounds, 13 assists against the Spurs
30 points 10 rebounds, 11 assists against the Bulls
It is difficult to have anyone else as the player of the week after LeBron was able to do this in his 17th year. I really enjoy this "revenge tour". If he can show this intensity throughout the year the Washed King may have a special season ahead of him.
Play of the Week
There were many plays I wanted to throw on here. Dwight Howard staying in front of and subsequently blocking Coby White was a play I loved. LeBron's pass to Quinn Cook for three was a great play as well. There was a lot of subtlety to that play. Howard points to show that Lavine is in the paint and that pass is just so good.
But here is my play of the week. This really showed why Danny Green was as big of signing as he was this summer. The Lakers needed a capable shooter to pair with LeBron. Green and LeBron both played with each other for a year in Cleveland but they are familiar as they played in two finals against each other.
Green has made that shot thousands of times. LeBron has made that pass thousands of times. Dallas looked out of sorts after this as the Lakers were able to take this game in overtime.
Fit of the Week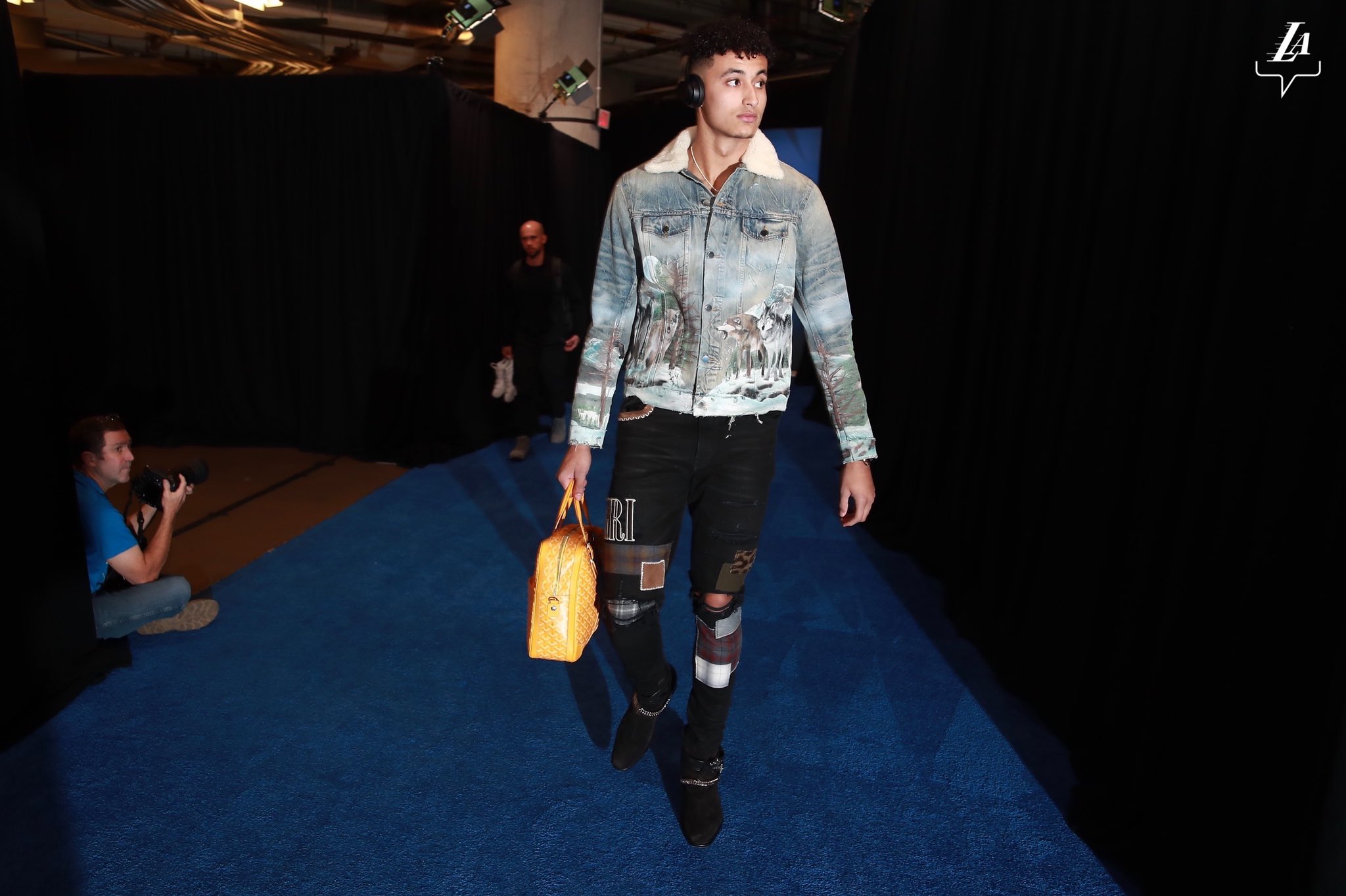 I'm not going to lie and say I know much about high fashion but I really liked this outfit from Kyle Kuzma, who sported the look on November 1st against the Dallas Mavericks. He is sporting an AMIRI wolf-print denim jacket with a sherpa collar and matching AMIRI jeans. Can I afford these? Absolutely not. Do I think the outfit works? Absolutely.
Kyle Kuzma has a penchant for getting outfits together that work. Of course, going with a top and bottom combo from the same designer helps, I do like what Kuzma wears (outside of Puma which I think are pretty garbage). Going to be interesting to see what else he comes up with the rest of the season.
Quote of the Week 
Bron's gotta watch out. He doesn't understand the physics of that. He's got 60 to 80 pounds on me… But he gets hype, and I get hype and we just roll with it.
"He doesn't understand the physics of that. He's got like 60-80 pounds on me." – @ACFresh21 😂😂😂 pic.twitter.com/keisGzh8rA

— Los Angeles Lakers (@Lakers) November 7, 2019
Do you want Alex Caruso content? You got Alex Caruso content! The Lakers were down against the lowly Chicago Bulls. Every bucket was important if the Lakers were to steal a win. On a play where Caruso forced a turnover and converted an and-1, LeBron was hyped up. So the six-foot nine-inch 250-pound forward celebrated with a chest bump. Caruso is closer to 150 pounds than 250 (he's 185) and I'm happy he survived the impact.
Laker fans are happy to see the Texas A&M alumni is still in one piece, although we do need to make sure he isn't on the injury report with some sort of chest contusion.
Kicks of the Week 
It's difficult for me to not give it to Troy Daniels here on November 5 when the Lakers played the Bulls. Even though these aren't technically shoes that he wore on court, this is a solid rotation here. He wore the Nike Zoom Freak 1 "Iridescent" colorway during the game. Having the Kobe 4 Protro in the "Black Mamba" colorway is a great option.
I have a lot of sentiment for the Kobe 4's since they came out a decade ago (please Venmo me so I can afford the Protro). I never had an original pair but I love this colorway, especially with the color gradient on the Nike swoosh.
To top it off, he's wearing the Travis Scott Jordan 1 Lows. Not a big fan of some of the other Travis Scott collabs other than the 4's but the 1's aren't bad.